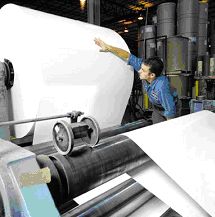 Great Service!
Slitting and Rewinding
Queen City has five machines capable of converting web rolls of all grades of paper or paperboard. We can slit a parent roll to our customer's desired widths by making multiple cuts. For example, a 24 ½" parent roll could yield one 24" roll, two 12" rolls, or three 8" rolls.
Trim of ½" or more is required to guarantee roll width tolerances of +/- 1/64". The outside and inside diameters of the finished rolls may be varied according to our machine specifications and your requirements.
Queen City is capable of slitting parent rolls to finished rolls as narrow as ½" or as wide as 72".
In addition to converting our inventory for resale, our slitting and rewinding services are available to customers who wish to send us their material for converting.